Maura Sugg (A17) is a student at St. John's College in Annapolis.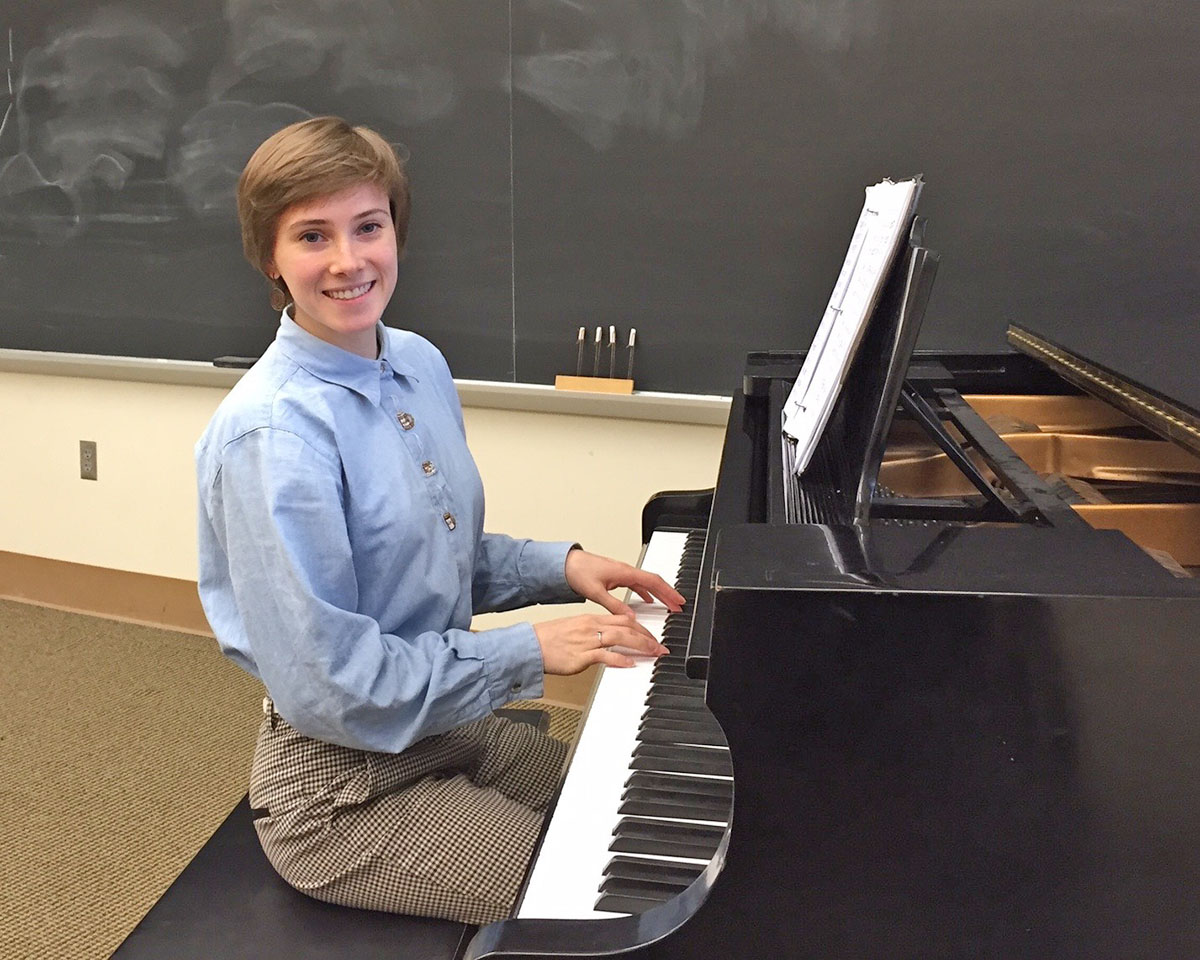 St. John's College: How did you come to St. John's College?
Maura Sugg: In high school, I was always interested in all of my classes. There wasn't anything that stuck out to me as "I'm really good at this thing" or "I really enjoy this thing" over anything else. I didn't want a place that was going to force me to specialize. My dad found St. John's. Once I started looking into it, it was never off my radar. I came back to it because I couldn't get my mind off of it.
SJC: What attracted you to St. John's?
MS: I visited and I really liked the feel of the campus. The most important thing to me was the community and how we all take the same classes, and how you can talk to anybody. There's a common connection to every single person on campus, and the small size is great, too. I like being able to know everybody and see the same faces over and over again.
SJC: What activities are you involved in on campus?
MS: I've been a member of Primum Mobile, St. John's Chorus and Madrigal Choir since freshman year. I also joined the orchestra playing flute freshman year; when the conductor graduated I took over. Now I'm splitting the bill with another student, so I'll be playing in some songs and conducting others. I also run the pop acapella group, Equant. That's been a lot of fun because not only is it directing the group but also finding or doing my own arrangements. Contemporary Choir started last February and I joined that as well. And I'm a music assistant, which is an extension of those activities.
SJC: What role does music play in the program here?
MS: When we come in freshman year and don't know anybody, one of the first classes we take is chorus. It brings us all together. It's a communal activity and it helps us work together in a way that's different than other classes. When we get to sophomore year music, it's challenging for some because they think that they can't do the theory, but as long as people put the effort into learning the technical stuff it works so well. It's also great doing it sophomore year when we're reading the Bible and all these religious texts, because a lot of the music that we study is biblical. [Music] helps bring in seminar even when we don't realize it.
SJC: Do you have a favorite piece that you've performed or studied while here?
MS: I don't think anything can beat "Sicut cervus." It's a classic, and I actually learned it for one of my choirs in high school. When I was looking at St. John's they had an audio clip of Sicut Sing [Editor's note: Students gather in the Pendulum Pit every Wednesday to sing "Sicut cervus" together]. I clicked on this link and I was like, "Oh, I know this song!" That's something I've been able to carry with me even from before being here, so it has a very special place in my heart.
—Brady Lee (AGI14)