Nelson Gets National Role
February 6, 2017 | By Tim Pratt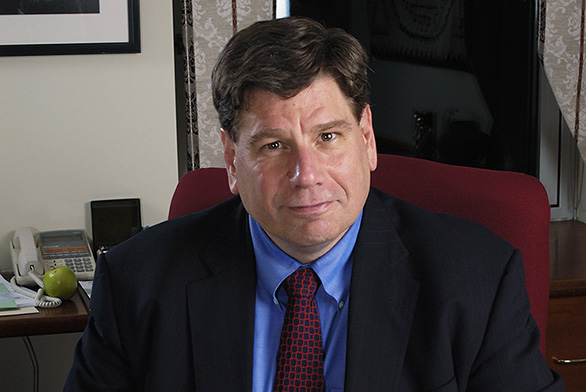 St. John's College President Chris Nelson may be a few months from retirement, but he continues to play a prominent national role in higher education.
The National Association of Independent Colleges and Universities on February 1 announced Nelson (SF70) as chairman of its Board of Directors.
"For nearly 26 years, Chris Nelson has been an articulate and outspoken advocate for a liberal arts education and for private, nonprofit colleges and universities," NAICU President David L. Warren said in a statement. "Chris' experience and leadership, in combination with the other new board members, will be critical over the next 12 months as NAICU and our members navigate the political leadership transition in Washington. Over the next year, as new opportunities and challenges arise, the Association will be well positioned for success with our new leadership team."
Since 1976, the Association has represented private nonprofit colleges and universities on policy issues with the federal government, from student aid and taxation to government regulation. It has more than 1,000 member institutions and associations nationwide.
Nelson, who since 2014 has worked on an NAICU committee that deals with higher education regulations, was elected vice-chair of the Association's Board of Directors in February 2016. The vice-chair rises to chair position in the following year. Because Nelson is retiring in June, he will step down as chair at that time.
The months leading to Nelson's retirement will be busy.
The Association will work closely with the Secretary of Education and the education committees of the House of Representatives and Senate on higher education regulations and other issues, Nelson says. The Association also will work to maintain and increase support for Pell grants, need-based financial aid programs, and federal loan programs.
"These are things that are important to the Association," Nelson says.
In addition, the NAICU recently signed on to a letter to the secretary of the Department of Homeland Security expressing concerns over the recent executive order on immigration. Nelson and St. John's college-wide President Mark Roosevelt also signed on to a separate letter about the immigration ban, voicing their support for international students and faculty.
Nelson says for years he has admired the work of the NAICU in representing the nation's independent colleges and universities. Member institutions include major research universities, church-related colleges, historically black colleges, art and design colleges, traditional liberal arts and science institutions, women's colleges, two-year colleges, and schools of law, medicine, engineering, business, and other professions.
Nelson says he is looking forward to the work ahead.
"The times are interesting; the challenges are stimulating; and the opportunities to provide the means to support students throughout the nation are great," Nelson says. "We need to make good use of those opportunities."
Nelson has twice been elected to the NAICU Board of Directors, from 1996 to 1999, and from 2014 to present. Nelson was the 2014 recipient of the NAICU's Henry Paley Award, presented annually in recognition of a person who has "unfailingly served the students and faculty of independent higher education."
Nelson also has served as chairman of the Board of Directors of the Maryland Independent Colleges and Universities Association. He is past chair and a founding member of the Annapolis Group, a consortium of more than 120 of the nation's leading liberal arts colleges. Among his other roles, Nelson has served on the board for the Council of Independent Colleges and as chair of the board of AFS-USA, one of the largest not-for-profit educational organizations sponsoring inter-cultural exchanges worldwide.