New Campus Fellowship Supports Students
October 4, 2018 | By Anne Kniggendorf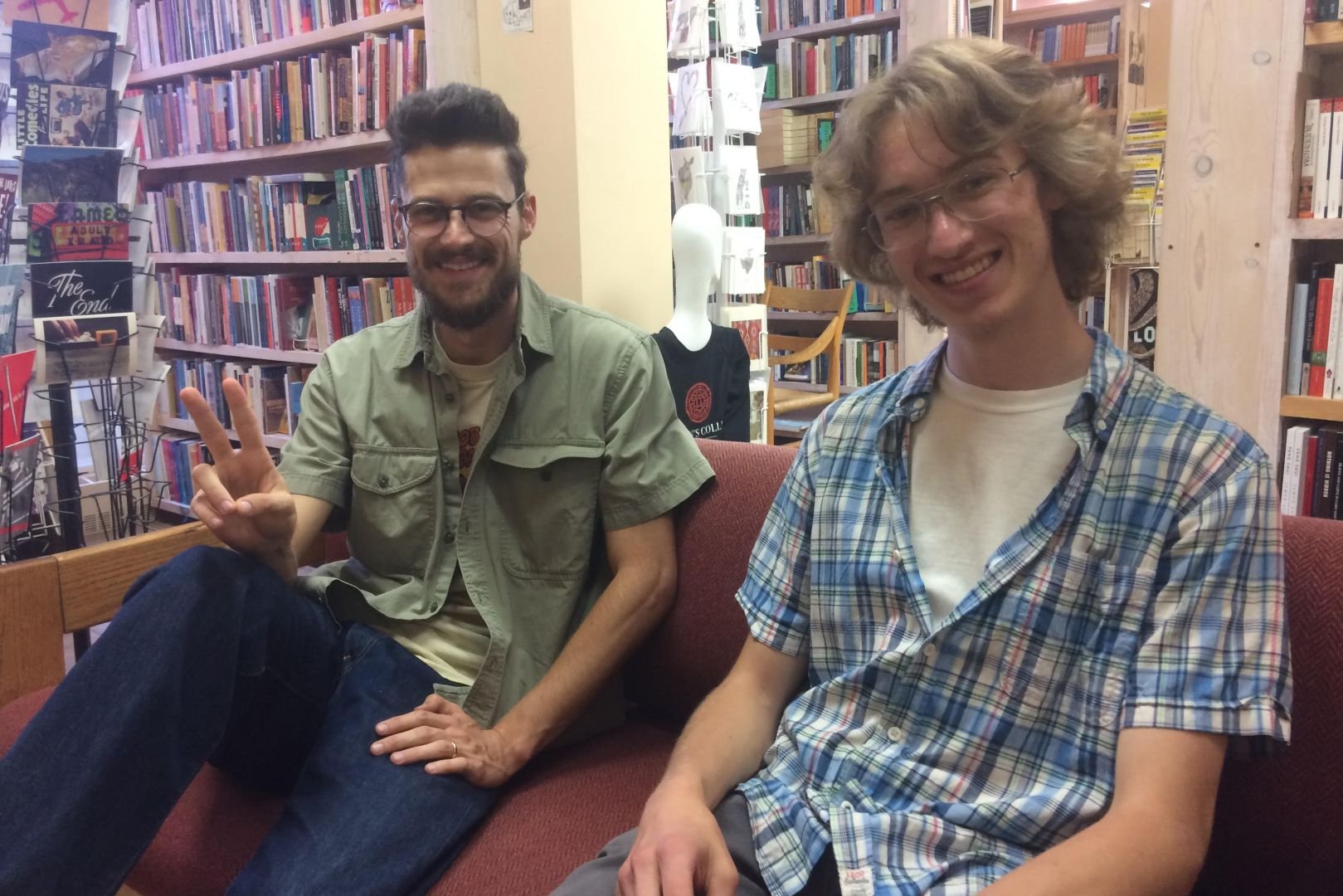 Ken Baumann (SF17) admits that his new title is a bit of a mouthful: Inaugural Presidential Fellow for Academic Support.
Its length befits its scope, however. In the new fellowship, Baumann will spend the academic year supporting St. John's students on the Santa Fe campus through whatever struggles they face, whether academic, financial, social, or personal.
Though the school year is still young, Baumann says his new job is going very well.
"What I've been telling students is that I want to be a sort of Swiss Army knife for them," he says, referring to the many different ways he can be used to help. "I am here to collaborate when they're facing something that's challenging and want a little help, and they want support from staff in a low-risk way."
The fellowship, which was created with the Mellon Foundation's New Presidents' Grant, arose from a conversation between Mark Roosevelt, college-wide president of St. John's College and president of the Santa Fe campus, and former dean and tutor Ned Walpin. The two agreed that students could use more support than what the college had previously been offering, and Roosevelt decided to institute the Presidential Fellow to bridge that gap and help increase retention rates.
"Most students struggle pretty significantly at some time or another during their four years here," Roosevelt says. "I think student support is a good thing in and of itself, and I think that since we don't have a typical academic advising program at the college, having this kind of support is probably even a better idea."
The Fellow, he decided, would have to be someone who had done very well while at St. John's, but who also understood the challenges inherent in the Program. Baumann seemed to be the perfect fit.
"He was an excellent student and still lived in Santa Fe, and I knew had great affection for the college," Roosevelt says.
When the two ran into each other in a Santa Fe bookstore this past summer, Roosevelt mentioned the job, and Baumann was interested in learning more.
As an author, publisher, and former television actor (best known for his role in The Secret Life of the American Teenager), 29-year-old Baumann has had a rich professional life. The new fellowship at St. John's, he says, felt like the right next step.
"I really love just meeting privately with folks, conspiring with them and helping them feel capable and connecting them to resources that are already there for them [but] that maybe they didn't know about or maybe were a little afraid to find on their own," he says.
Freshman Chris Young (SF22) was one of the first to take advantage of Baumann's help.
"During my first week of college, my classes seemed to me awkward and chaotic. I was having a tough time getting settled in," he says.
Because Baumann spoke to the new class during orientation, however, Young knew where he could go for help.
"He was very helpful and gave me practical advice from his own first-hand experience," Young says. "He was also very positive and gave me some tips on how I could make my situation better."
Baumann's work as the Presidential Fellow for Academic Support helps alleviate pressure, too, on the assistant dean. Most of what Baumann is doing had previously fallen to Michael Golluber, who has just begun his second year in the position. Golluber says that, until recently, he had been tasked with so many duties that nothing could be done as well as it might otherwise have been.
Roosevelt addressed the imbalance first by adding an executive director of health and wellness, Christine Guevara (who reports to Roosevelt), then instituting the presidential fellowship. Now, the assistant dean focuses primarily on academics.
Golluber says Baumann (who he calls a sort of "life coach") is more than qualified to handle his previous duties.
"Everyone who meets him, they come back and thank me for sending them to him," Golluber says. "Board members are impressed, faculty members are impressed."
Ultimately, Roosevelt thinks that quantitative data about the presidential fellowship—how many students go to Baumann, for instance—and the development and use of systemic monitoring for at-risk students will indicate how successful the fellowship is. He and Golluber speculate that it will continue into the next academic year. In the meantime, however, they are simply pleased that Baumann is giving Santa Fe Johnnies the help they need.
As Golluber says, "He's doing wonders for the students."