July 29, 2017 | By Tim Pratt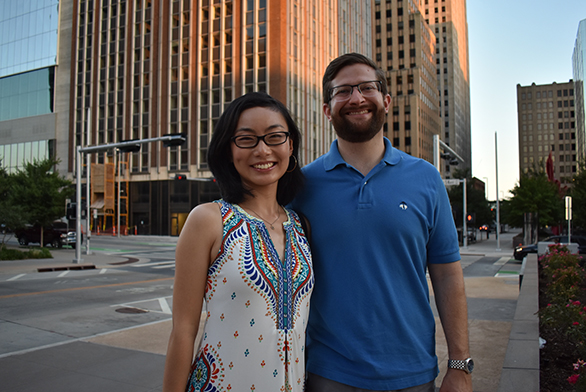 This story is the fifth in a series of alumni profiles compiled on a road trip between Annapolis and Santa Fe. To follow the series, visit Exploring the Johnnie Way.
OKLAHOMA CITY—As the hot, mid-summer sun shines on the side of the federal courthouse downtown, Patrick and Tianlu Redmon have a story to tell.
The setting was the Graduate Institute at St. John's College in Annapolis. The year: 2012.
Patrick and Tianlu were classmates at the time, one with a goal of pursuing a career in the humanities, the other with a plan to return to China and teach English.
As the pair worked together to decipher Homer's The Odyssey, their affinity for one another grew. Over time, their relationship "blossomed," Patrick says.
Days after the couple graduated in 2013, they married. Their wedding reception was held in Randall Hall. Friends, family, classmates and tutors attended.
"I think that was a sort of golden age for us," Patrick says with a smile. "You look back on it with real nostalgia."
These days, Patrick is working as a federal law clerk in Oklahoma City; Tianlu runs her own translation, interpretation and teaching company.
While the Redmons now live together in America's heartland, their journeys to this city were quite different.
Tianlu grew up in China, where she completed her undergraduate work in English literature. She planned to attend graduate school in the United States, then return to China to teach English. She heard about St. John's from a visiting professor, then read up on the college and decided it was where she wanted to spend her graduate years.
Patrick is from Knoxville, Tennessee, and did his undergraduate work in philosophy and economics at Fordham University. He moved to Rome after graduating from Fordham, where he spent three years studying theology and philosophy. When he returned to the United States, he planned to pursue a career in the humanities.
In 2011, both enrolled in the Graduate Institute in Annapolis. As the couple's relationship flourished over the next two years, they stayed busy on campus. They did a bit of dancing—"enough to waltz at our wedding," Patrick says—and participated in other activities, like choir and badminton. Patrick also served as a senior resident.
After graduating and getting married, the couple moved to North Carolina. Patrick, who had an interest in law as well as the humanities, enrolled at the University of North Carolina law school in Chapel Hill. It was in North Carolina where Tianlu started her company.
Since then, Tianlu has grown her translation and interpretation services—for businesses, courts, medical professionals, even a brochure for St. John's and TV work for the Golf Channel. She also teaches language classes online and in person.
The couple moved in 2016 from North Carolina to Oklahoma City, where Patrick began a clerkship with a federal judge. He enjoys the work, which involves criminal, civil and civil rights cases.
"You're always reminded of how high the stakes really are," he says.
Both Redmons say their St. John's education has paid dividends in the time since they graduated.
"It helped me be more logical in my thinking," Tianlu says. "That's very helpful when working with language. Chinese is very contextual."
For Patrick, the ability to read long texts, write about and decipher them helped in law school and in his current work. It also helps keep things in perspective.
"As a lawyer, it taught me there are two sides to every story," he says.
As the end of summer approaches, the couple is preparing for another move, this time to Washington, DC, where Patrick will begin a new clerkship in a federal court. Afterward, he will continue to pursue a career in law. Tianlu will resume her work from there.
The Redmons still keep in touch with some of their classmates and tutors from St. John's. They look back fondly on their time in Annapolis.
"We miss it," Patrick says. "We really do."