Specializing in Communication
July 30, 2017 | By Tim Pratt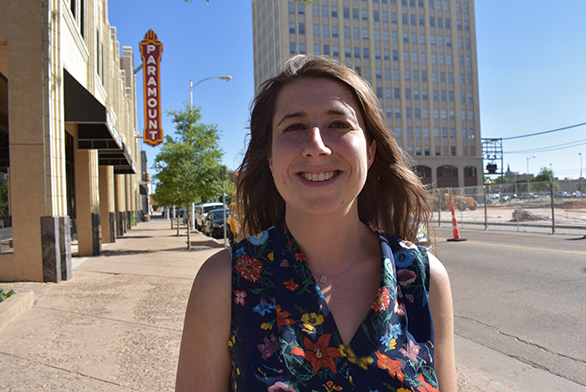 This is the sixth and final story in a series of alumni profiles compiled on a road trip between Annapolis and Santa Fe. To follow the series, visit Exploring the Johnnie Way.
AMARILLO, Texas—When Liz Bush was contemplating what she wanted to do with her life, she asked herself a few questions.
What kind of career would allow her to help people? What jobs are in demand? What kind of work could she do near her home in the Texas panhandle?
The St. John's College graduate is now on a path to land a job that meets all of her criteria.
Bush (SF08) is preparing to finish graduate school next month at West Texas A&M University with a master's degree in communication disorders. It will set her up to work with people on a variety of communication issues, from language and articulation to social skills and memory.
Bush says the communication skills she acquired at St. John's, with its discussion-based learning approach, have helped her as she moves toward a career in the field. St. John's prevented her from being an introvert, she says, and taught her how to speak in public, articulate her ideas and defend them.
"I don't think I would have gone on to do this if I hadn't gone to St. John's," says Bush, an Amarillo native. "You have to build confidence and get out of your shell if you're going to work with adults and have them answer questions, and work with kids and give them directions. (St. John's) really set me up to do this."
Sitting in a restaurant downtown, Bush smiles when talking about her time at St. John's and the journey she has taken since graduating. She says she decided to attend the college's Santa Fe campus because she was an avid reader growing up and wanted to read "bigger, better books." When she learned about the St. John's great books curriculum, she decided the college was the place for her.
Bush arrived in Santa Fe and stayed busy. She participated in the Iron Bookworm Club—an intense combination of traditional calisthenics, martial arts conditioning, and Chinese and Indian wrestling exercises led by tutor Krishnan Venkatesh—and worked in the grounds department, among other activities.
After graduating, Bush debated enrolling in veterinary school or medical school. Those plans were put on hold, however, and she moved to Austin, Texas, to work for Texas Environmental Corps. With a chainsaw in hand, she helped build trails, remove invasive plants and perform other tasks.
"It was great," she says with a laugh.
Bush has worked a variety of jobs and taken a number of classes since then. She took pre-requisite courses for veterinary school and did some job shadowing, but decided not to pursue it as a career. She also pursued her interest in the arts, which included a brief move to Los Angeles and a stint in the Czech Republic.
Eventually, Bush decided to go back to school and enrolled in the communication disorders program at West Texas A&M. As part of the program, she has completed internships and externships. Her most recent internship is at Turn Center, a nonprofit physical, occupational, and speech therapy clinic in Amarillo. She has been working primarily with children.
"I love it," she says.
After she graduates, she hopes to complete a clinical fellowship and obtain the license necessary to work in the field, whether it's with children or adults. Children may be dealing with speech issues such as poor articulation, or they may be non-verbal and need to use a computer to communicate; adults may have had a stroke and now have trouble speaking, or be suffering from a disease that affects their memories.
"There's really a huge range of stuff you can do," she says.