Philosophy to Neurosurgery
June 19, 2017 | By Tim Pratt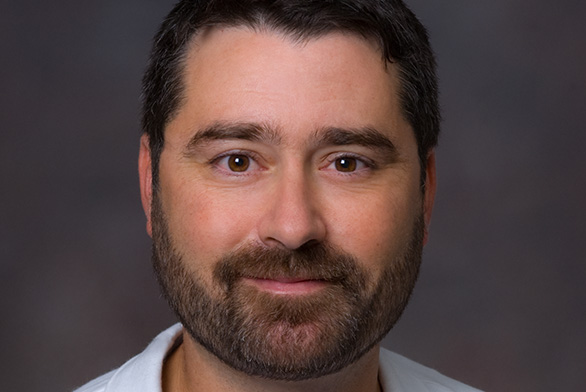 Justin Cetas still remembers the moment when he began to think seriously about a career in medicine.
Cetas was a student at St. John's College in Santa Fe with a love of science and philosophy. One day, a doctor came to campus to give a talk. It piqued Cetas' interest.
"It sounded like something practical to do, but also something where you can apply the knowledge and theory and speculation we spent so much time doing at St. John's," Cetas says.
More than 20 years later, Cetas (SF93) is a leading neurosurgeon in the Pacific Northwest.
Cetas works as an associate professor and residency program director at Oregon Health and Science University in Portland. He's also the chief of neurosurgery at the Portland VA Medical Center.
For Cetas, the ability to teach and treat patients is satisfying work.
"There are infinite ways to be engaged both emotionally and intellectually," he says. "That's why I love it."
Cetas didn't come to St. John's straight from high school. He took time off and traveled through Europe. That experience, he says, was enlightening.
"I realized I thought I knew things, but I didn't really know anything," he says. "I was overwhelmed by how much I didn't know."
Ultimately, Cetas decided to attend St. John's, where he could read, think about and discuss the great books of Western civilization. He didn't want to be limited to a particular discipline.
"It really resonated with me," he says.
Cetas says he enjoyed his time at St. John's. On top of the readings and discussions with his classmates, he spent time mountain climbing, fencing, participating in Film Society and working as a lab assistant.
After two years of studies, Cetas took a year off to do research and take pre-med courses at the University of Arizona. Then he returned to Santa Fe and completed his final two years at St. John's.
Cetas says the education he received in Santa Fe has paid dividends in the years since then, from his time in medical school to his lengthy residency to his current duties in Portland. He learned how to be critiqued without taking it personally, and to critique others respectfully. He learned to think critically, to speculate and to challenge the speculation of others.
"I think a broad, rigorous education is the key to success," he says. "It has come in handy my whole career."
After graduating from St. John's, Cetas headed to Finland to work with developmentally disabled children. After that, he enrolled in a joint M.D./PhD program at the University of Arizona. Cetas completed the program in 2002 and headed off to Portland to complete a seven-year residency in neurological surgery at OHSU. He followed that up with a fellowship in skull base and cerebrovascular neurosurgery there, then landed a job as chief of neurosurgery at the Portland VA Medical Center and as an associate professor in the OHSU Department of Neurological Surgery.
In 2015, Cetas became program director at OHSU, where he makes sure doctors in residency are getting the supervision and resources they need, among his other duties.
Cetas, who focuses on pituitary tumors, was featured recently in a video on the OHSU Facebook page, in which he spoke about his interest in philosophy and neuroscience.
"To really understand the world, you had to understand how does the mind think and why does it think that way," he says. "Because ultimately that is going to color our philosophical interpretation of the world."
While Cetas' days are a mix of academic, administrative and clinical work, the ability to engage with people from "all walks of life" is one of the most rewarding aspects of his job, he says.
"They're coming to you with a problem, and it feels good to be able to help that person or that family," he says. "That's why most people go into medicine. On top of that, the brain is fascinating. It ties into everything we think about as being human."