Programming for the Environment
June 16, 2017 | By Tim Pratt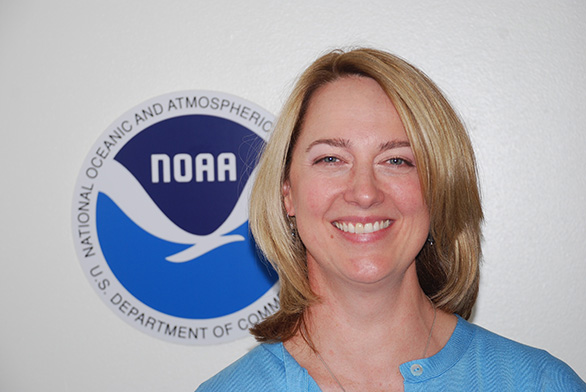 In Arizona, students learn about rainwater harvesting and the effects of increased temperatures, drought and flooding.
On the East Coast, students learn about extreme weather events, climate change, sea level rise and the associated environmental effects.
Meanwhile in Illinois, students explore environmental hazards like severe weather and extreme temperatures, and consider the effect of the Great Lakes on the regional climate.
These educational programs are the result of nearly a half-dozen grants administered last year by the National Oceanic and Atmospheric Administration's Office of Education.
The senior program manager for that office is St. John's College alumna Sarah Schoedinger (A92).
Schoedinger has worked at NOAA for more than 13 years. She helped establish the grant program that now awards millions of dollars a year to science centers, museums, aquariums, zoos and other organizations throughout the country for educational programs.
The grants are important to educate the public—from students to teachers to members of the community—on issues related to climate change and vulnerabilities to extreme weather events. They also teach how to mitigate and adapt to those conditions.
"To me, it's interesting to be able to fill a need that's out there," Schoedinger says. "We're helping people—youth and adults—understand the impact of climate change. That's where we have shifted a lot of our focus because climate affects everything about the earth's systems."
Schoedinger has a lifelong love of the oceans and the environment. When it came time to look at colleges, however, she didn't want to pursue a degree in science. She says she wanted to attend St. John's, where she could study the great books and receive a more well-rounded education.
"I just loved the Program and thought it was such a neat approach to learning," she says.
During Schoedinger's junior year at St. John's, she met with tutor Kathy Blits, who helped her navigate the graduate school process. The pair looked at different programs, and Schoedinger decided to pursue a career in the environmental field.
Schoedinger ended up obtaining a master's degree in science at the University of Delaware. She says her St. John's education helped her better understand the scientific process.
Through a dean at the University of Delaware, Schoedinger landed an internship with a nonprofit organization called the Consortium for Ocean Leadership. She eventually was hired as a contract employee, then became a permanent employee, focusing on education.
As the organization grew, Schoedinger's work did, too. She stayed at the Consortium for eight years before heading off to NOAA in 2004.
These days, Schoedinger's primary responsibility is the management of NOAA's environmental literacy program.
"I believe very strongly in the mission of my agency," Schoedinger says. "That's one of the reasons I have stayed here this long."
A program that is set to begin this summer will include educational programming in about 45 libraries around the country. Scientists will head to those libraries and cohost a series of book clubs that focus on climate change.
Along with Schoedinger's administrative duties, she often goes on site visits to see how the grant money is being used.
"It's one thing to read about it in a report someone sends you," she says. "It's another to see what's happening on the ground. Being able to go out in the field and meet in person people who are being affected by the work is meaningful to me, professionally and personally, and you learn a lot more."