Serving Others Through Applied Math
April 30, 2018 | By Eve Tolpa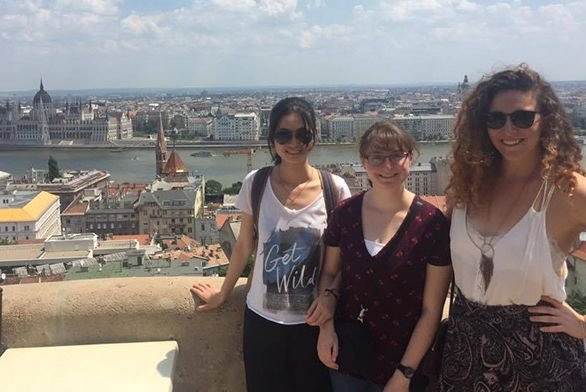 Qi Zhan (A18) knew something was missing from her education.
Just as she entered the final stages of a research project for a degree in pharmaceutical science at Shandong University in China, she hesitated.
Zhan had chosen the subject because she was good at biology and wanted to secure a well-paying job after graduation. Now, she realized that acting on self-interest alone would not result in a fulfilling career, and changed course.
In 2015, Zhan entered St. John's College in Santa Fe as a January freshman and found what she was looking for.
"I decided to transfer to the United States to pursue a liberal arts undergraduate education that would enable me to think more carefully about how I want to use my talents to contribute to society," she says.
A top student throughout her college years in China, Zhan appreciates the mathematics and laboratory science aspects of the St. John's Program, offering, as they do, the chance to read original texts that explicate the foundations of modern math and science.
But, Zhan says, "I enjoy the philosophy and humanities program at St. John's even more, because they allow me to delve into the same questions I had been thinking back in China while majoring in pharmaceutical sciences. What are the factors that influence individual and societal behavior? How does the notion of morality (or) religion inform the way people live and relate to others? Is there a way for people to search for personal interest as well as serving others?"
Her studies at St. John's have helped her make connections between ethics and behavior, in terms of the individual and of society.
"I can see now the possibility of humanitarianism, combining the activities of service to others and to oneself," she says.
In light of this epiphany, Zhan now envisions a professional future for herself that centers on applied math.
"One area I am thinking of pursuing is public health, more specifically biostatistics," she says. "I hope to be able to use different statistical models and computational methods to solve problems (in) the context of medical issues."
Some of those issues include infectious diseases and the factors that influence their propagation.
During the summer of 2017, Zhan took classes in number theory and combinatorics at the Budapest Semesters in Mathematics program, facilitated by the St. John's Global Pathways Fellowship.
"Students (who) attended Budapest Semester in Mathematics (BSM) are from top universities in the United States," she says. "People were very passionate about math, and all we talked (about) with each other was math-related."
Number theory was an easy choice for a course.
"The books we read at St. John's math classes are very helpful for us to understand some fundamental concepts in number theory, and it's easier for people from (the college) to follow and even perform well in number theory."
Combinatorics helps lay the groundwork for more advanced courses in probability and statistics, which Zhan plans to study in graduate school after taking a gap year.
Zhan found the St. John's Office of Personal and Professional Development very accessible. The office encouraged her to apply for summer math programs.
"There were not many previous alumni (who) ended up pursuing math for graduate study," she says, "but the (office) tried their best to gather information for how to succeed in certain summer math courses and to help me succeed with BSM."
This summer, Zhan has been accepted for a Hodson Trust Internship on genetic statistics at the lab of Dr. Mengjie Chen, assistant professor of medicine at the University of Chicago. Zhan was introduced to Chen by Leslie Kay (SF83), a professor of psychology at the University of Chicago, and the internship offers a chance for Zhan to practice her skills in a research environment.
She doesn't have a specific plan for her gap year, though.
"I will either continue working at Professor Chen's lab or do (an) internship at another university or institution," Zhan posits. "It all depends how my summer research project goes and whether my interests change slightly."