St. John's Students Set Hodson Internship Record
April 27, 2018 | By Tim Pratt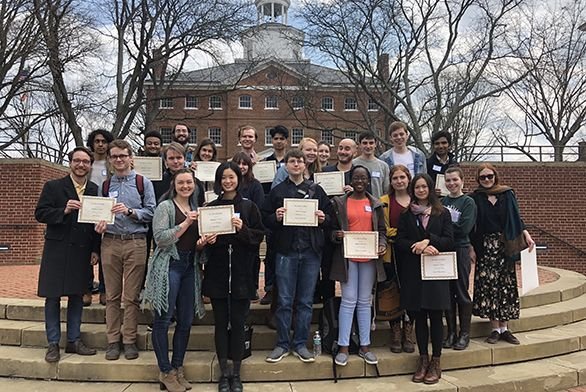 This summer, St. John's College student Beimnet Kebede (A20) will head off to Ethiopia, where he'll intern with an organization that trains rural farmers to use digital technology.
Anne Freeman (A20) is bound for Washington, DC, to intern with a prominent architectural firm. Kapil Adhikari (A20) will fly to Nepal, where he's set to complete an internship at a media company.
Kebede, Freeman and Adhikari are three of 42 St. John's students who received Hodson Trust Internships this summer all over the world. A record 76 students applied.
The Hodson program, made possible through a grant from the Hodson Trust, provides funding for summer internships for undergraduate students. Students can apply for funding for otherwise unfunded internships, or design their own projects, working directly with mentors in their field.
Jaime Dunn, director of the Office of Career Services, says the internships are valuable because they let Johnnies experience possible careers and gain a better understanding of what they may—or may not—want to do in life.
"Internships can be among the most valuable experiences students have at St. John's," she says.
Dozens of recipients will work throughout the United States. Classmates will travel to South Africa, Czech Republic, South Korea, Ethiopia and Nepal. They are set to complete internships in fields ranging from medicine, politics and law to art, radio and theater.
Kebede hails from Ethiopia, where he will return to work with Digital Green. The sophomore will help the organization use data and technology to help improve the livelihoods of farmers, from training opportunities to digital apps that help them sell produce.
Adhikari, meanwhile, will return to his home country of Nepal and intern for Red Circle Creative Solutions. He will work on online projects during his summer in Kathmandu.
"It feels like a challenging job," he says. "It's uncharted territory, so I'm a little nervous, but I'm very confident."
Closer to home, Mary Dray (A20) will intern with the Touchstones Discussion Project, which brings seminar-style discussions to classrooms all over the world, including Anne Arundel County public schools. The program was created by St. John's College faculty.
Freeman, who has maintained an interest in architecture since middle school, is set to intern at David M. Schwarz Architects in Washington, DC. She will be doing research, writing and shadowing architects, among other duties. She is excited about the opportunity to explore a possible career path.
"I love the way architects see the world," she says.
Dunn plans to complete site visits for students completing local internships. Her office assists students throughout the process of finding and applying for Hodson Internships, and follows up with them during and after the internships are complete.
Among the local students is Sean Miller (A20), who will intern in the Anne Arundel County Office of the Public Defender in Annapolis. Miller has wanted to be a lawyer since he was a kid. Last summer he interned with the Baltimore Police Department.
"This is the next step in the journey," he says.