St. John's Community Rallies to Support Students
May 4, 2020 | By Les Poling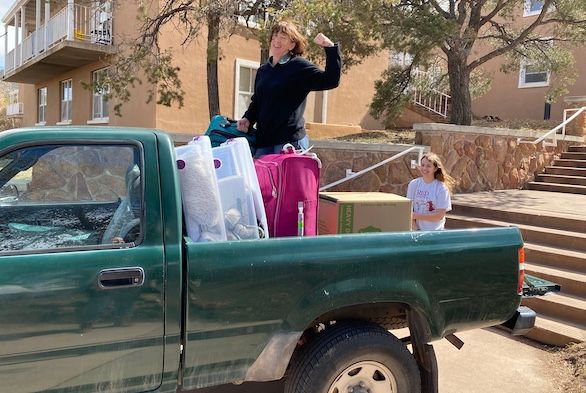 At the beginning of March, St. John's students in Santa Fe and Annapolis were immersed in the usual routines of spring semester. Senior orals had begun, essay writing periods were underway; in Annapolis, campus emptied as Johnnies departed for spring break, while in Santa Fe students prepared for their own two weeks of vacation.
Then everything changed. For weeks the college had closely monitored the spread of COVID-19; by mid-March, the situation had escalated, and college leadership made the difficult decision to suspend in-person classes. In the span of only a few days, everyday life at St. John's was categorically upended, leaving the community no choice but to leap into action.
Mutual Aid
Santa Fe students were in their final week before spring break when they were advised to make travel plans under the assumption that they wouldn't return to campus. In response, the entire Santa Fe community transformed itself into a collective moving company. The Student Life Office purchased bulk amounts of packing supplies, and staff and faculty helped gather students' belongings and bring boxes to the post office, in-town storage units, and, in some cases, their own homes. A local member of the college's Board of Visitors & Governors brought much needed-supplies and additional boxes, while other community members volunteered their vehicles or offered to open their homes in the event that any students found themselves without a place to stay.
Meanwhile, Johnnies on both campuses took initiative to help their peers in need. Aviral Chawla (SF21) started getting in touch with fellow Santa Fe students as soon as the suspension of in-person learning was announced. "I texted all my friends who do not live in the United States, and I was like: 'Do you have housing? Are you going to be able to figure something out? Do you have food to eat?'" He soon discovered that while many had basic needs taken care of, some found themselves without housing options. "I knew a lot of people who would be able to offer housing, and I knew a lot of students who needed that housing," he recalls. "So I started setting up a single point of communication that students could use to get the ball rolling and match with those who could provide housing."
After connecting with students to gauge how many people needed assistance—and how many could offer it—Chawla reached out to Santa Fe Director of Student Life Cesar Cervantes, who referred him to more students as well as regional alumni offering their homes and spare rooms. By the time Friday rolled around and Chawla flew home to India, most people he knew had found places to stay. "Everything was moving very fast," he says. "I was just trying to mitigate as much anxiety as possible."
Chawla acknowledges that the solution is temporary; some students have found housing for the rest of the semester, while others may have to move in a month or two. But his most important priorities were ensuring nobody was left behind in the initial move, and making it clear to every member of the community that no matter their current situation, they had someone to lean on. "The college can do only so much," he says. "It's up to students and up to the community to step up for each other."
In Annapolis, the same events unfolded as spring break came to a close. Senior Angelika Alberstadt (A20) was visiting a friend at Middlebury College in Vermont when that institution announced its transition to remote instruction. "I was kind of stuck in this chaos that unfolded as my friend and her friends were deciding if they would leave Vermont, where they would go, whether they would petition to stay on campus," she recalls. "I heard that some mutual aid spreadsheets were going around in an attempt to hold on to some sort of community."
The next day, St. John's announced the move to distance learning. "When I read the email, I immediately felt so extremely disconnected from the rest of the world," Alberstadt explains. "I couldn't find a better way to feel useful and empowered in that moment of panic than to make a spreadsheet of my own for SJC. It calmed my nerves to know that even if I couldn't be with people physically, I could still have a connection with them by offering my help." She felt compelled to do whatever she could for the community she chose to join four years ago, recognizing that many students—having planned to leave campus only temporarily—might suddenly be floundering. "I think the school has done a great job supporting the student body," she says. "But it isn't enough during any time of crisis to sit back and watch the administration handle everything on their own."
The mutual aid spreadsheet—a Google Sheets document that anyone can use to ask for or offer assistance—features instructions and multiple pages with specific categories, including Housing, Transport, Storage, Food, International Student Aid, and more. "I listed every category that I thought would help people who are displaced, without food, or without storage for their things; people who are international or lack health care, and anyone who usually goes to church or a therapy group who would no longer be able to access those outlets," Alberstadt says. In the weeks since she created the spreadsheet, there's been an outpouring of support from students and alumni; she even used it to secure a ride home after returning from Vermont.
"I think everyone has really stepped up, opened their doors to each other, and proven that our college, albeit small and unusual, is a seriously close-knit community," Alberstadt says. "Nobody is getting left behind in this time of need."
Support Systems
Along with the volunteerism of individual Johnnies, college leadership and staff have worked tirelessly to create support systems for students suddenly adapting to an entirely new set of financial and academic needs, beginning with adjustments to student work. Most work-study jobs require students to be on campus to complete their duties; following the move to remote study—and state government directives for schools to move students off campus—college leadership decided to allow students to telework in order to meet their average weekly hours, helping Johnnies around the world maintain a source of income. To supplement work opportunities, individual offices were encouraged to coordinate on surplus duties and assignments, creating additional projects for students whose usual responsibilities were disrupted. For example, student workers in the Annapolis admissions office began creating and pitching content ideas to the communications office.
Meanwhile, in parallel with the sudden leap to digital learning, the college created an online landing page to house college-wide announcements and general health guidelines, as well as student service pages for each campus—providing accessible, campus-specific information regarding the health center, counseling center, on-campus operations, and more. FAQ pages for both Annapolis and Santa Fe were created to address the most common questions regarding the college's response to COVID-19, and staff continue to deliver regular updates, including state department of health notices, personal prevention practices, college communications, and much more. Additionally, IT personnel in Santa Fe and Annapolis helped put together a comprehensive "Support for Remote Learners" page, designed to answer questions about Microsoft Teams and bolster what Dean Joe Macfarland wrote to Annapolis students: "All members of the community, students and tutors, share a love of reading, learning, and conversation that is greatly strengthened by our customary proximity, but not diminished by our being apart at this time."
St. John's wouldn't be St. John's without its alumni, and since the first announcement of remote learning, college social media channels have been flooded with concerned Johnnie graduates asking how they can help. In response, the college created the Student Emergency Relief Fund, devoted to assisting students experiencing hardship or requiring additional resources for remote study. So far, the fund has raised more than $50,000 to support students affected by the coronavirus pandemic—an extraordinary boon during chaotic times, and a tangible representation of the Johnnie community.
Finally, and most importantly, faculty and staff in every department and office at the college have made themselves open and available to help fellow students, faculty, and staff members in any way possible, from Microsoft Teams meetings and online fitness classes to virtual open studio sessions and remote study assistance for Greek, French, math, and writing. In the words of Santa Fe President Mark Roosevelt, "We know we haven't gotten everything right, but we will keep trying until we do."
Sticking Together
It would be impossible to chronicle every uplifting St. John's story that's appeared during the last six weeks. There are Instagram anecdotes of students donating time and money to nonprofits and general aid funds. The Capital featured an article on an Anne Arundel group sewing fabric masks for local hospitals, including the Mitchell Gallery's Lucinda Edinberg. Annapolis tutor Ron Haflidson—alongside President Pano Kanelos—organized a lighthearted virtual reading of Glaucon, a spoof Platonic dialogue, and Santa Fe's SJC Music Club has taken to hosting online jam sessions open to students from both campuses. Even though most Johnnies are far from one another, the St. John's spirit of striving for a collective ideal has continued to thrive.
The nature of this unprecedented situation makes certainty an impossibility; it means that the college is constantly responding to a global crisis that is actively unfolding. But even as uncertainty reigns, one thing remains clear: Johnnies are committed to keeping the college community together, no matter how far apart they may be.