December 16, 2016 | By Tim Pratt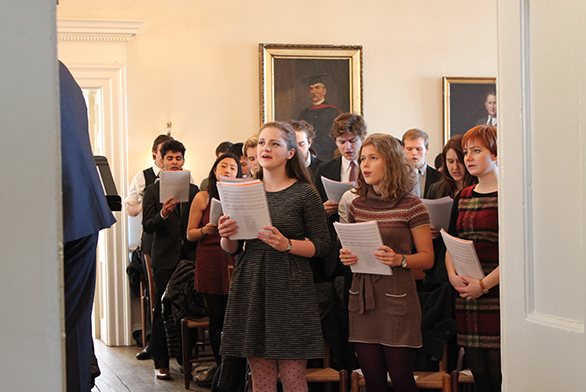 When Jack Mooradian was considering colleges, he wanted to attend a school where he could study music.
The Pennsylvania native has been playing the piano for most of his life. He also plays the drums.
But Mooradian wanted to receive a well-rounded college education, one that wouldn't limit his studies strictly to music or some other major.
"Something was unappealing about having such a focus right away," he says.
The ability to study music and the great books of Western civilization brought Mooradian to St. John's College in Annapolis, where he is now a junior.
"I think music at St. John's is such a big part of the education if you're musically inclined," says Joan Haratani (SF79), who serves on the college's Board of Visitors and Governors. "The ancient Greeks, the Shakespeare bards, they were all around music. There's music in the humanities."
That is certainly the case at St. John's, where students get to work on their musical talents in formal settings, like Freshman Chorus and the sophomore music tutorial, in which students study music theory. There also are opportunities outside the classroom: the St. John's Chorus, the school orchestra, chamber music groups, jazz and rock bands, and madrigal and renaissance choirs.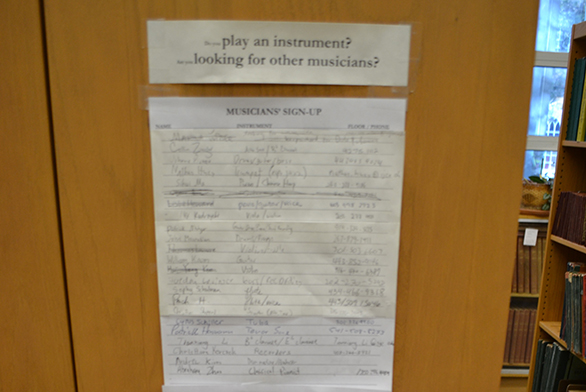 Johnnies gather every Wednesday on both St. John's campuses to sing "Sicut cervus"; and concerts are held each semester, giving students, faculty and staff on both campuses the opportunity to showcase their talents.
"Music is a part of life, and it should be a part of our community," says Music Librarian Eric Stoltzfus, who organizes music facilities and events on the Annapolis campus. "Beyond that, St. John's seems to have a belief that music is part of our intellectual endeavor at the college. It's a part of who we are as human beings."
Mooradian has taken advantage of the opportunities offered at the college. Among his activities, he sings in the madrigal choir, plays drums in the jazz band and played piano last year for the Freshman Chorus. His skills on the piano led to his participation in a master class with renowned musician Seymour Bernstein. It came during the inauguration of college-wide President Mark Roosevelt in Santa Fe.
"Music means a lot to me," Mooradian says. "I think that's one thing the master class showed me. It's at times like that I noticed there's much more to playing music than just the notes. The music just came to life."
A Musical Tradition
The history of music at St. John's dates back centuries. Among the alumni who went on to achieve musical fame were Francis Scott Key, who wrote "The Star-Spangled Banner," and Jac Holzman, who founded Elektra Records in his St. John's dorm room.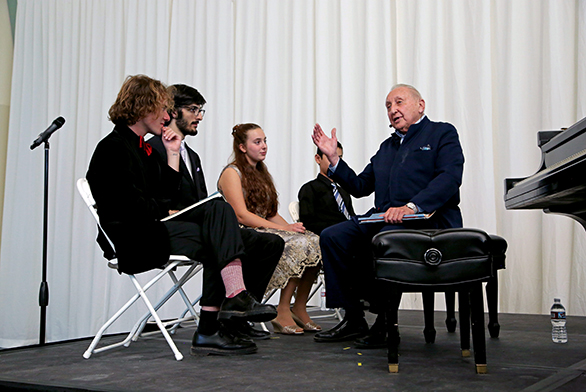 Students have continued the musical tradition in recent years with the support of some alumni.
When Haratani visited the Annapolis campus in the fall for a Board of Visitors and Governors meeting, she made sure to visit the "rock room" in the basement of Mellon Hall.
The small, concrete room is filled with amplifiers, guitars, a piano, mixers and drums. It's a place where student groups for years have practiced and hung out. But the room has seen better days.
So Haratani, an avid drummer, decided to do something about it: She bought a new drum kit for the room—it replaced one that had been pieced together—and donated it to the college. The donation spurred plans to clean up the room, an effort now under way.
"There's nothing like playing in a space that's nice," Haratani says. "It makes you up your game."
Haratani says part of the reason she donated the drum kit was to give students the opportunity to keep honing their skills.
"I would have loved to have had that ability if I were a drummer to go to a college that had a drum kit like this, or other opportunities to continue to play," she says. "How do you give up your instrument for college? You don't. You're not going to go to a place where you can't play."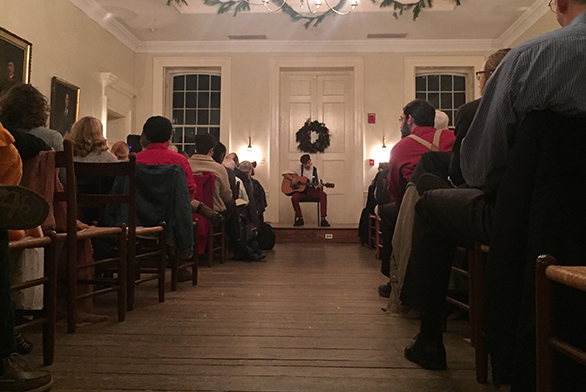 The kit was used at Collegium, Mooradian says, and sounded "great."
"Not only is it a great drum set, it's a vast improvement over what we had," he says.
Tutor Peter Kalkavage, who this year leads the Freshman Chorus and teaches sophomore music tutorial, has worked at St. John's for nearly four decades. He has seen student music groups come and go over the years, but says these days, music seems to play a bigger part in campus life than it did when he arrived.
"I think it's the clearest sign we have a real community," he says. "We do it in class, but we also do it in our free time."​