History, Politics, Law, and Economics
What is justice? Or freedom? Are they conventional, derived from human laws? Does either have a basis in nature? What is the best form of government, and can it be implemented? Do human affairs progress, and to what end? These questions and many more are investigated discussing books such as Aristotle's Politics, Tocqueville's Democracy in America, and Smith's Wealth of Nations. Johnnies have the opportunity to engage in political debates on the Peloponnesian War or modern global economies in two historic capital cities, Annapolis, Maryland and Santa Fe, New Mexico.
Aeschylus Agamemnon, Eumenides, Libation Bearers
Aristotle Nicomachean Ethics, Politics
Joseph Conrad Heart of Darkness
Dante Alighieri Divine Comedy
Frederick Douglass Selected speeches
W. E. B. Du Bois The Souls of Black Folk
George Eliot Middlemarch
William Faulkner Go Down Moses
Alexander Hamilton, John Jay, and James Madison The Federalist
Herodotus Histories
Thomas Hobbes Leviathan
Homer Iliad, Odyssey
Immanuel Kant Foundations of the Metaphysics of Morals
Martin Luther King, Jr. Letter from Birmingham Jail
Abraham Lincoln Selected speeches
Titus Livy Early History of Rome
John Locke Second Treatise of Government
Niccolò Machiavelli Discourses
Karl Marx Capital, Economic and Philosophic Manuscripts of 1844, The German Ideology
Herman Melville Benito Cereno
Plato Apology, Republic
Plutarch "Antony," "Brutus," "Caesar," "Cato the Younger," "Lycurgus," "Solon"
Jean-Jacques Rousseau The Social Contract, The Origin of Inequality
William Shakespeare As You Like It, Hamlet, Henry IV, King Lear, Macbeth, Othello, Richard II, The Tempest
Adam Smith Wealth of Nations
Sophocles Antigone, Oedipus Rex
Jonathan Swift Gulliver's Travels
Tacitus Annals
Thucydides Peloponnesian War
Alexis de Tocqueville Democracy in America
Leo Tolstoy War and Peace
Virgil Aeneid
Booker T. Washington Selected writings
Articles of Confederation
Constitution of the United States of America
Declaration of Independence
Documents from American History
Supreme Court Opinions
Hannah Arendt The Origins of Totalitarianism, The Human Condition, Essays from Between Past and Future and Men in Dark Times
Aristotle Nicomachean Ethics, Politics
Augustine The City of God
Edmund Burke and Alexis de Tocqueville The French Revolution
Albert Camus The Myth of Sisyphus, The Plague, (and other writings)
John Dewey Reconstruction in Philosophy and Democracy and Education
W. E. B. Dubois Souls of Black Folk, and Albert Murray, Stompin' the Blues
Edward Gibbon The History of the Decline and Fall of the Roman Empire
F. A. Hayek The Constitution of Liberty, The Road to Serfdom, Law, Legislation, and Liberty
Georg Wilhelm Friedrich Hegel Philosophy of Right, Lectures on the Philosophy of History
Martin Heidegger Essays: "What is Metaphysics," "The Age of the World Picture," and "The Question Concerning Technology"
Herodotus Histories
David Hume Essays, Moral, Political and Literary
Immanuel Kant Metaphysics of Morals
Niccolò Machiavelli The Prince, Discourses on Livy, and Mandragola
Karl Marx Selections
Herman Melville Moby Dick
Carl Menger Principles of Economics
Baron de Montesquieu The Spirit of the Laws, (most of it with a few selections from The Persian Letters)
Robert Nozick A Bend in the River and The Enigma of Arrival
Plato Alcibiades I and Laches, Laws, Republic
Plutarch Lives
Jean-Jacques Rousseau Confessions, Emile
Jean-Jacques Rousseau's Second Discourse, and Smith Theory of Moral Sentiments
Friedrich Schiller Letters on the Aesthetic Education of Man
William Shakespeare Antony and Cleopatra, Richard II, Henry IV; Parts I & II, Henry V
Adam Smith Theory of Moral Sentiments
Sophocles Ajax, Antigone
Thucydides The Peloponnesian War
Alexis de Tocqueville Democracy In America
Leo Tolstoy War and Peace
Virgil The Aeneid
Xenophon The Education of Cyrus
Virginia Woolf A Room of One's Own, Orlando, To the Lighthouse
Genesis, Exodus
Readings in Social Thought
Medieval Political Philosophy, Islamic and Christian
The Anti-Federalist Papers
The French Revolution- in three parts
American Historical Documents
Ancient Greek Drama: Tragedy, Comedy, Satyr play…Philosophy?
"Oh Captain! My Captain!"
Hannah Arendt On Revolution, The Human Condition, and other works
Aristotle Rhetoric, Poetics
Simone de Beauvoir The Second Sex
George Eliot Middlemarch
Niccolò Machiavelli
Plato
Ayn Rand
Claudia Rankine Citizen
Rousseau Emile
William Shakespeare
Strauss
Chinese Classics
Eastern Classics
Gender & Sexuality
Gender Studies
Historical Research
International Relations
Political Discussion
Post-Structuralism
Queer Theory
Speaking Skills
The information presented is for illustration purposes only and may not reflect the current reading list and preceptorial and study group offerings. Works listed are studied at one or both campuses, although not always in their entirety.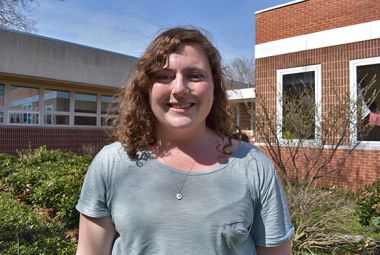 A Future in Advocacy
Johnnies
Senior Essay
On Greatness in Plutarch's Lives: Alexander the Great and Pompey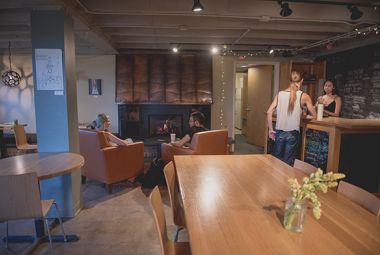 Chicago History Museum and Pritzker Military Museum & Library
Internships
Lecture
Stabilizing Currency: Locke on Money, Morality, and Natural Law
Douglas Casson
Civility on the World Stage
News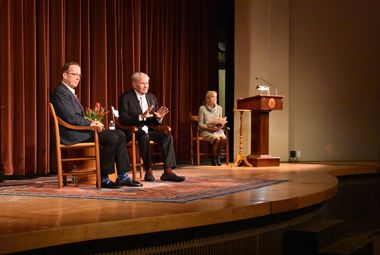 Senior Essay
The Security of Liberty: An Examination of the American Identity in the American Founding Documents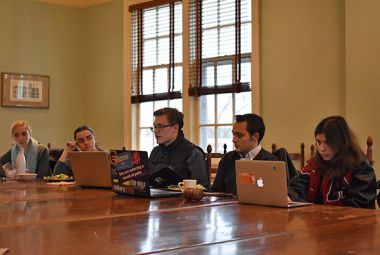 Delegate Council
Student Group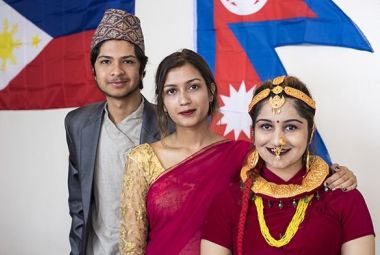 International Student Group
Student Group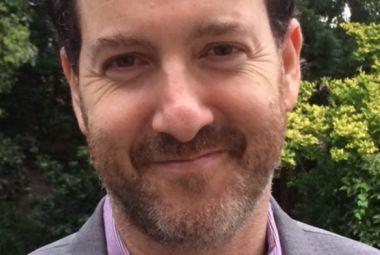 Covering the World
Alumni
Senior Essay
Making Mythology from History: The Truths that Tacitus Can Only Convey by Lying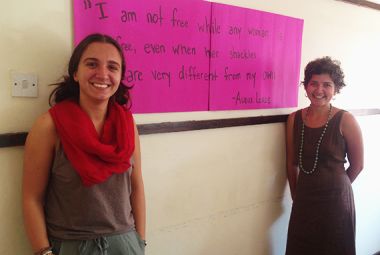 Students Use Conversation to Spark Change in Zimbabwe
Johnnies
Lecture
Who Should Elect the President?
Steven Crockett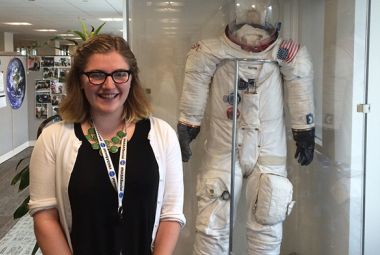 NASA History Program
Internships
Senior Essay
My Way's Cloudy: Misguided Conciliation and the Pursuit of Ideals in W. E. B. Du Bois' The Souls of Black Folk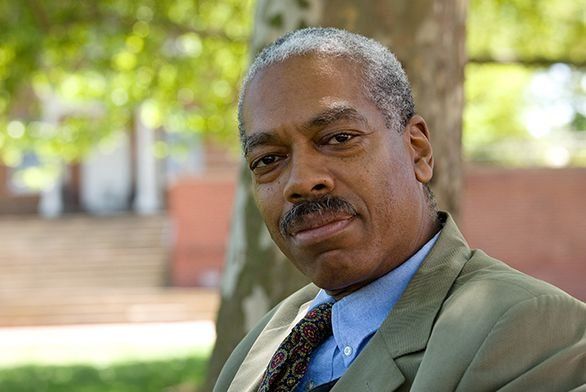 Leadership in Factious Times
Tutor
Smithsonian National Museum of American History
Internships
Senior Essay
Sexual Distinctions and Their Effects in Mary Wollstonecraft's A Vindication of the Rights of Woman
Lecture
Living Well: Aristotle on Democracy, Equality, and the Politics of Life
Walter Brogan
Senior Essay
Looking Through the Inner Eye: An Exploration into the Mental and Moral Forces of Clausewitz on War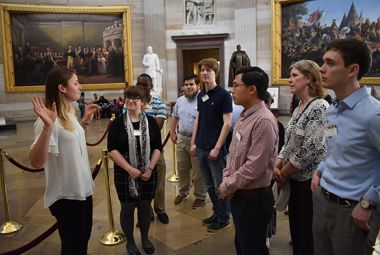 The Lay of the Land
Alumni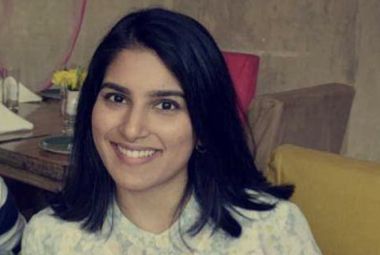 Metropolitan Museum of Art in New York
Internships

Senior Essay
The Necessity and Use for Rights: The Universal Declaration of Human Rights as a Means to Promote Common Goals of Freedom, Security, Prosperity, Justice and Peace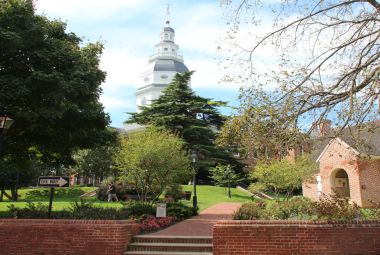 Maryland Student Legislature
Student Group
Lecture
Toqueville's American Odyssey
Steven Crockett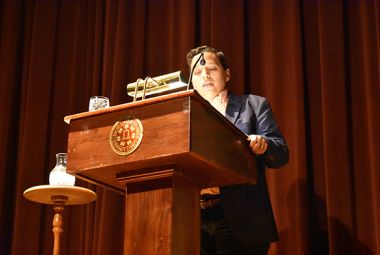 A Message of Solidarity
Alumni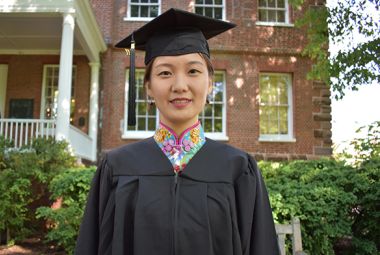 On Quantum Mechanics and Aristotle
Johnnies
Senior Essay
Can Capitalism Survive? An Examination of Socialist and Capitalist Systems in Capitalism, Socialism and Democracy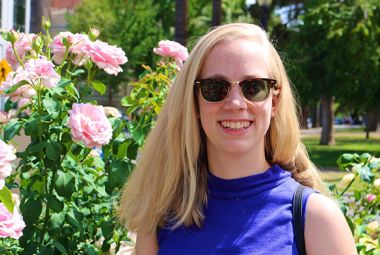 Governor's Summer Internship Program
Internships
Senior Essay
For All Time: The Negotiation Between Adaptation and Retention of Identity in Thucydides' History of the Peloponnesian Wars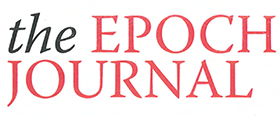 Epoch Journal
Student Group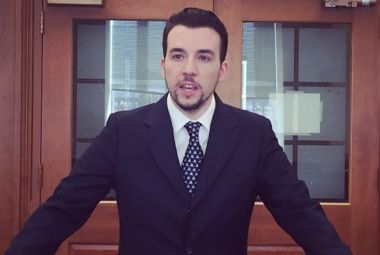 Lecture
Political Order and Political Decay: The American Political System in a Time of Global Upheaval
Francis Fukuyama
Center for Environment Education Nepal
Internships
Senior Essay
The Tyranny of Private Property: An Essay on the Relationship Between the Economic Principles of Adam Smith and Karl Marx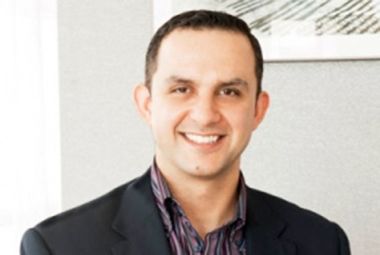 Cherokee Nation to Columbia Law
Alumni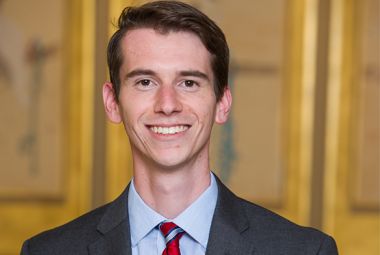 Thomas L. Rhodes Journalism Fellow, National Review Institute
Internships
Senior Essay
The Masterpiece of Legislation: Three Different Forms of Government and the English Constitution
Lecture
Krishna Versus the British Empire: the Bhagavad Gita During the Indian Independence Struggle
Richard H. Davis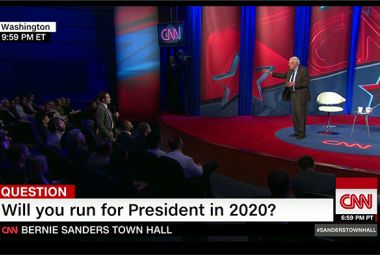 Johnnie Featured in CNN Town Hall
Johnnies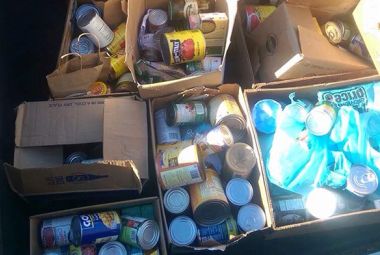 Project Polity
Student Group
DC Public Charter School Board
Internships
Senior Essay
The General Will, the Consensus Problem, and the Legislator in Rousseau's Du Contrat Social
Lecture
Religion, Enlightenment, and the American Character
Laurence Berns
Senior Essay
The Great Unfinished Symphony: Identity, Memory, and Change in Lincoln's America
Pink Triangle Society
Student Group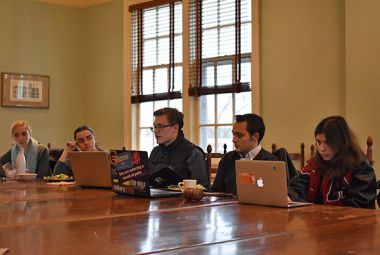 Democracy in Action
Johnnies
Student Committee on Instruction
Student Group
Senior Essay
The Form of the Good—An Inquiry into the Fundamentals of Value within the Economics of Smith and Marx
National Prison Project, ACLU
Internships
Senior Essay
The Self-Focused Yet Free Citizen: A Search for Active Citizenship in Tocqueville's Democracy in America
Student Polity Council
Student Group
Senior Essay
War is Peace: or, The Death of the Republic in Machiavelli's Discourses on Livy
A Different Side of the White House
Alumni
Senior Essay
The Last Full Measure of Devotion: A Rhetorical Analysis of the Gettysburg Address
Entrepreneurship Mastermind
Student Group
Senior Essay
The Nature of Ambition and the Politics of Change: An Essay on Julius Caesar and Shakespeare's Political Narrative
Common Cause Pennsylvania
Internships
Senior Essay
Is Revolution Justifiable? Abraham Lincoln and the Right to Revolution
Lecture
Can Taxes Be Fair? Should They Be?
William Spangar Peirce
Senior Essay
Peace is a Boot, War a Flame: Hobbes' Leviathan
Veteran's Club
Student Group
Senior Essay
The Double-Edged Sword of Society: The Decline of the Roman Empire
GSA (Gender and Sexuality Alliance)
Student Group
Leadership in Factious Times
News
Senior Essay
The Masses Rising: An Exploration of the Desire for Republican Government
Intersectional Feminist Group
Student Group
Senior Essay
The Political Advantages of Christianity in a Commonwealth
Black Student Union
Student Group
Senior Essay
Rhetorical Strategies in The Federalist Papers
Finance and Business Club
Student Group
Maryland State Archives
Internships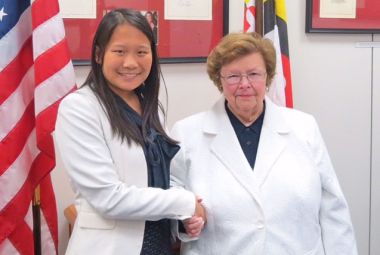 Student Interns with Senator on Capitol Hill
Johnnies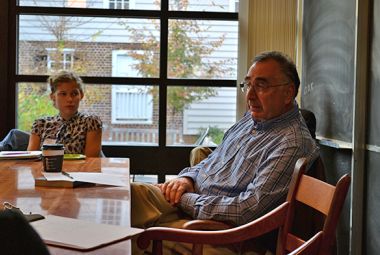 On the Advice of Counsel
Alumni
Project Politae / Voter Registration
Student Group
Senior Essay
An Argument for the Defense of Liberty
Senior Essay
A Treatise on Rights and Constitutions