Why are people moved by music? Is there such a thing as a great work of art? Do people see a thing differently if they draw it? Is the rhythm of poetry the rhythm of music? At St. John's students sing Palestrina in the Great Hall, sketch plants, study how text and music work together in Bach's St. Matthew Passion, and derive the equation for a vibrating string. Students can also paint the landscape, join the orchestra, dance in the studio, play in a jazz band, and visit the art gallery. Whether students have been long dedicated to an artistic practice or are new to fine arts, conversations about their place in a worthy human life are an important part of a liberal education.
Johann Sebastian Bach St. Matthew Passion
Ludwig van Beethoven Third Symphony
Johann Wolfgang von Goethe Theory of Color
Joseph Haydn Quartets
Georg Wilhelm Friedrich Hegel Lectures on Fine Art
Johannes Kepler Epitome IV, Inventions
Claudio Monteverdi L'Orfeo
Wolfgang Amadeus Mozart Don Giovanni, Operas
Giovanni Pierluigi da Palestrina Missa Papae Marcelli
Franz Schubert Songs
Igor Stravinsky Symphony of Psalms
Richard Wagner Tristan and Isolde
Leonardo da Vinci
Wolfgang Amadeus Mozart The Marriage of Figaro
Rainer Maria Rilke New Poems and Letters on Cézanne
Franz Schubert Winterreise (Winter Journey)
The Films of Akira Kurosawa
The Films of Andrei Tarkovsky
The Music of Igor Stravinsky
Schopenhauer, Wagner and Nietzsche
Visual Arts: Thinking About the Experience of Learning How to Draw
What is a (Modernist) Painting?
Architecture
Art
Film
A More Beautiful World
The information presented is for illustration purposes only and may not reflect the current reading list and preceptorial and study group offerings. Works listed are studied at one or both campuses, although not always in their entirety.
Forest Woods Media Productions
Internships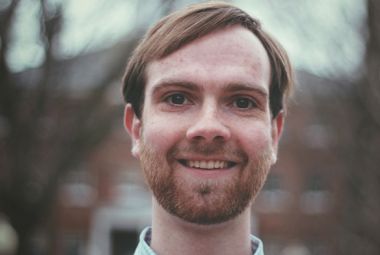 Working for Art and Education
Alumni
Senior Essay
Seeing and Feeling in Painting
Senior Essay
Suffering in Art: The Alienation of Passion in "Musée des Beaux Arts"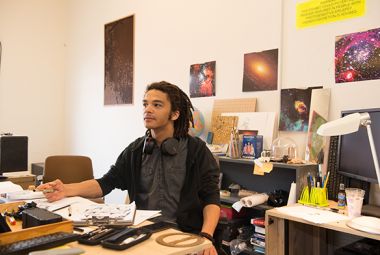 Meow Wolf: Johnnies and the Art of Collaborative Inquiry
Alumni | Johnnies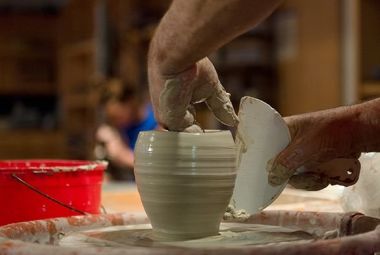 Senior Essay
The Labyrinthine Self: The Experience of Self in Andrei Tarkovsky's Stalker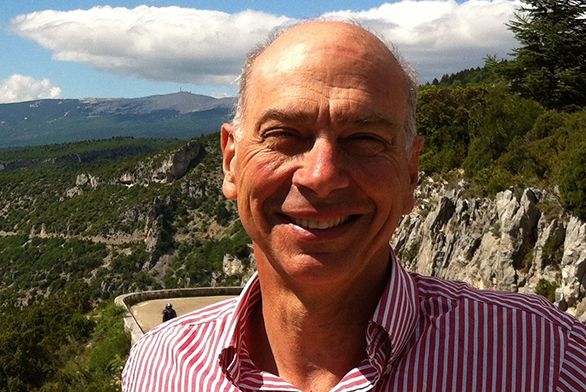 Contemplating Cosmic Harmonies
Tutor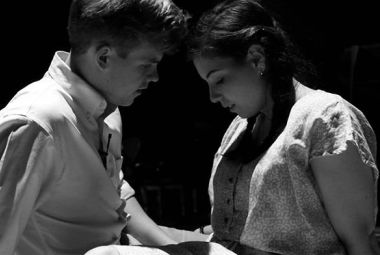 King William Players
Student Group
Meow Wolf: A Growing Artistic Enterprise
Alumni | Johnnies
Senior Essay
When the Music is Over—An Exploration into the Purpose of Art and Music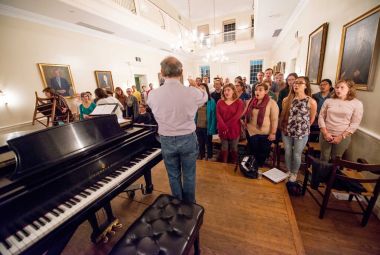 St. John's Chorus
Student Group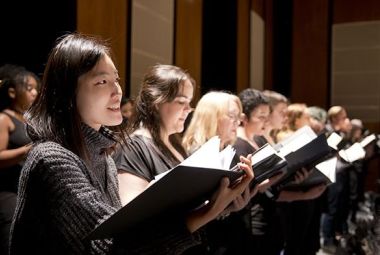 Small Chorus
Student Group
Baltimore Theatre Project
Internships
Senior Essay
How to Find Resolution in Death: An Exploration of the Relationship Between Death and Desire in Wagner's Tristan und Isolde
Senior Essay
The Receding Figure: Sublime Moments in Three Landscapes by Caspar David Friedrich
Senior Essay
The God Who Dies to Conquer Death: Exploring the Meaning Behind the Music and Text of the Passion Chorale in Bach's St. Matthew Passion
Senior Essay
Ambiguity of Reality in the Translation of Worlds: Asking Van Gogh through His Paintings and Letters Why We Read
Dancing like Mr. Darcy
News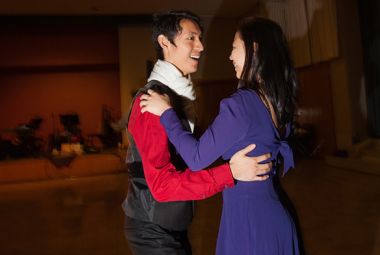 Senior Essay
Kommt, ihr Töchter, helft mir klagen: Bach's St. Matthew Passionas an Invitation to Complex, Varied Lamentation
Senior Essay
The Music of Philosophy: An Inquiry with Plato's Phaedo
Lecture
Music and the Idea of a World: on Plato and Schopenhauer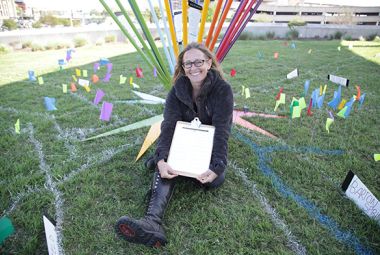 Shedding Light on Austin's Art Scene
Alumni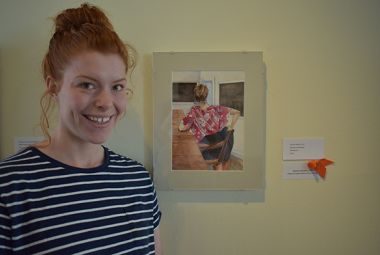 Prized Pieces of Art
Johnnies
Senior Essay
Agape in the Form of Art: An Analysis of Andrei Tarkovsky's Andrei Rublev
Maryland Hall for the Creative Arts and McBride Gallery
Internships
Senior Essay
Sleeping Disciples, Sleeping Sins, and the Final Rest in Death: A Textual and Musical Thread in Bach's St. Matthew Passion
Senior Essay
The Observer, Observed or: On the Possibility of Impossible Love in Chaplin's City Lights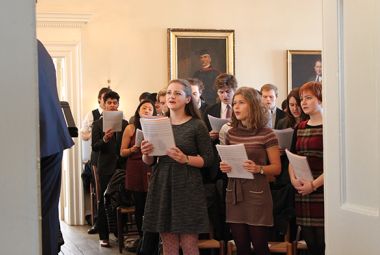 Music in the Humanities
Johnnies
Lecture
Going for Gold: Sergio Leone Reads Plato in The Good, The Bad, and The Ugly
Linda Wiener
SITE Santa Fe
Internships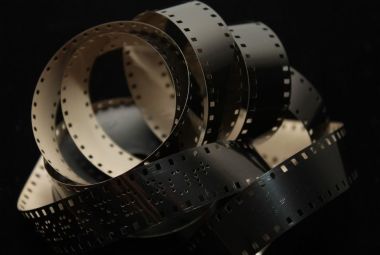 A Man for All Seasons
News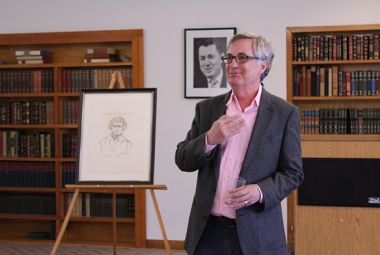 Lecture
The Musical Universe and Mozart's Magic Flute
Lecture
Children of Orpheus: The Dialogue Between Ancient and Modern Music
Senior Essay
Reading the List: On Love and Revenge in Don Giovanni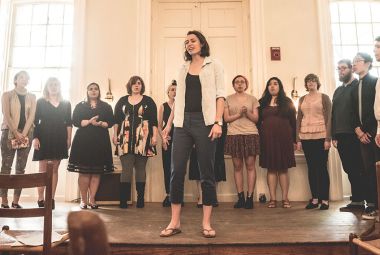 Contemporary Choir
Student Group
Annapolis Shakespeare Company 
Internships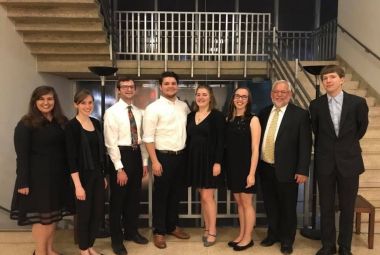 Primum Mobile (renaissance / classical / a cappella)
Student Group
Blue Bear Films
Internships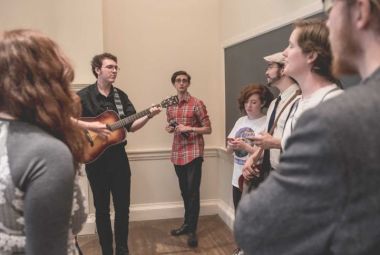 Equant (pop a cappella)
Student Group
Senior Essay
Finding Home: Man's Journey in Beethoven's Ninth Symphony
Senior Essay
The Mechanics of Grace: A Schenkerian Approach to the Live Content of Bach's First Prelude in C
Hainan Don-po Academy of Calligraphy and Painting
Internships
Senior Essay
Squire, Disenchanter, Governor: An Examination of Don Quixote's Sancho Panza in Three Parts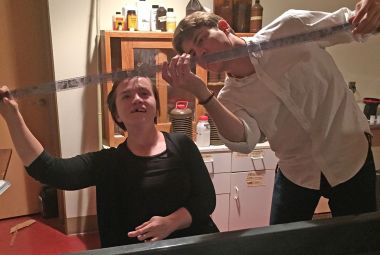 A World-Class Artist's Gift
News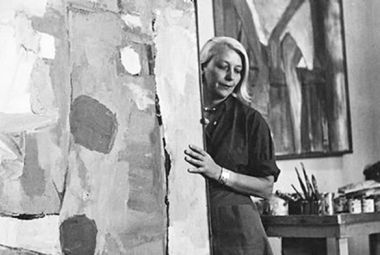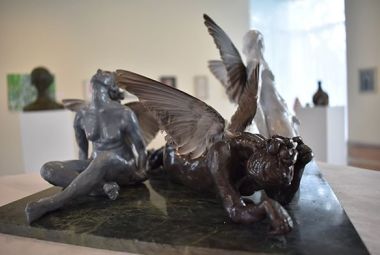 Art Society
Student Group
Senior Essay
The Power of the Nonverbal in Stanley Kubrick's 2001: A Space Odyssey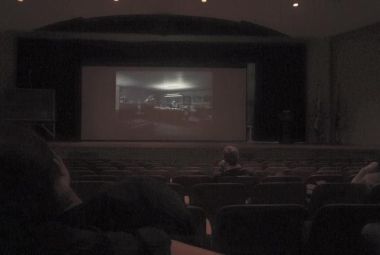 Film Society
Student Group